First Sunday – 1000 Years of Memories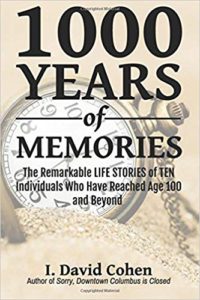 Join us as I. David Cohen presents his new book 1000 Years of Memories.
Newly published, this book recounts the life stories of 10 local individuals who
have reached the age of 100 or beyond. Each one is asked for their earliest memory
which triggers a flood of stories- happy and sad. Two of those interviewed are members
of the Jewish community. David will recall the interviews and tell us more about his experiences
with these centenarians.
Exhibit opens at 1.00, talk begins at 2.00
At The Historical Collection, 1175 College Ave.
Date Sunday, August 5th, 2018
LocationCJHS Historical Collection - 1175 College Ave
Time2:00 - 3:00 PM