The Ohio State University Hillel Foundation
Compiled by Becca Nitzberg, 9 June, 2011 
Chapter 1-

The Creation of the B'nai B'rith Hillel Foundation
The B'nai B'rith Hillel Foundation is the result of the mutual concerns and collaborative efforts of three men: Isaac Kuhn, Rabbi Benjamin Frankel, and Dr. Edward Chauncy Baldwin.
Isaac Kuhn, a resident of Champaign, Illinois, was very involved in the Jewish community of his town; he became deeply concerned for the Jewish students on the campus of the University of Illinois.1 Kuhn shared his concerns with Dr. Baldwin, a Christian professor of Biblical Literature at the University of Illinois. Dr. Baldwin became uneasy about his Jewish students' lack of knowledge of the Bible, which is attributed to the Jewish people.1 Rather than seeing anti-Semitism and discrimination as detrimental, he worried more about the trend of young Jews who were separating themselves from Jewish life and their Jewish history.1
As a Rabbinical student at Hebrew Union College in 1921, Benjamin Frankel was assigned to the Champaign-Urbana community on a bi-weekly basis as an assignment.1  This was his first exposure to the students of the University of Illinois and Dr. Baldwin's determination to educate and to provide a strong Jewish community for the Jewish students.1After becoming ordained as a Rabbi in 1923, Frankel became "determined to accept the little student community as his rabbinical charge," despite the lack of financial support he faced.1
After the first year of Hillel programming on the University of Illinois' campus, Rabbi Frankel convinced the B'nai B'rith Organization, the longest-standing Jewish service organization that the Hillel program would succeed in its service to Jewish students and the Jewish community. Once B'nai B'rith had signed on, the Hillel Foundation received funding and promises of expansion.2
As the years passed, the Hillel Foundations gained momentum and a place on many campuses around the United States, all which contributed to the goal of creating a thriving Jewish community for the Jewish college student. The National Hillel Foundation released their objective which states, "The Hillel Foundations are sponsored by B'nai B'rith, America's oldest and largest service organization, to bring a more adequate knowledge of their heritage to the Jewish students on the University campus. The units are supervised by trained professional directors who cooperate with representative student leaders in the task of making Jewish religious and cultural values vital and relevant for the college generation. The task is pressing and crucial, for most students go through a fundamental transformation during their college days…their minds and bodies [are] exposed to complex intellectual and moral challenges, they require expert guidance to steer them safely…"3
Chapter 2-

The Hillel Foundation's Home on Ohio State's Campus
The B'nai B'rith Hillel Foundation at The Ohio State University was founded in 1925. This was the third Hillel to be founded in the country, after the University of Illinois in 1923, and the University of Wisconsin in 1924.
The original OSU Foundation was located in a large home at 96 East 18th Avenue, just east of Ohio State's campus.4   The Foundation was located in its first home from 1925 until 1934, when a need for a larger space surfaced.5
The Hillel Foundation moved a short distance from its 18th Avenue location to 46 East 16th Avenue in 1934. A dedication ceremony was held on October 14, 1934, the religious service was led by a student leader and the choir.5 Hillel's second home, a three-story building, had rooms for activities, offices, a library, and a game room. The top floor was reserved for live-in caretakers.
As the Ohio State Foundation became a Jewish center for a rapidly growing number of students, an addition to the Foundation's building became imperative. Hillel built an auditorium in the spring of 1941.6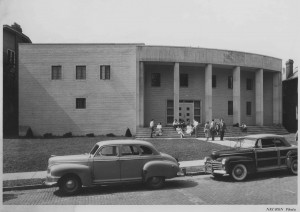 The Ohio State Hillel's third home was in the Schanfarber Memorial Building. Built in 1948 on the same plot of land, 46 East 16th Avenue, this building was the first building to be designed and built specifically to be a Hillel.7 The building was dedicated on February 6, 1949, in honor of Edwin J. Schanfarber, a graduate of Ohio State's Law School and past member of the National Commission on B'nai B'rith Hillel Foundations and the OSU Hillel's 1926-1927 Advisory Board.6 While the building was in memory of E.J. Schanfarber, the chapel was dedicated as the Hillel War Memorial Chapel, in honor of the 50+ Jewish students who lost their lives in the Second World War.6
The Schanfarber building provided more space for increased programming and hundreds of involved students.6 According to the 'Dedication Exercises' pamphlet used upon the building's dedication, the goal of the new building was to give Hillel students "A Jewish home away from home."6 The building offered art exhibits, a library, and music and game rooms to students. After its 45 years of use, the Schanfarber Memorial Building is, to date, the longest-standing home for the Hillel Foundation at The Ohio State University.
Ohio State's Hillel leadership once again saw need for a new building to house the Hillel Foundation in the late 1980's. In 1990, the OSU Hillel commenced a large fundraising campaign, which included a presentation to the Wexner Foundation, owned by Leslie Wexner, the owner of many clothing companies and a philanthropist in the Columbus area. The OSU Hillel was not a stranger to requesting funds from the Columbus community – it was the first Hillel to create a community-based endowment fund.7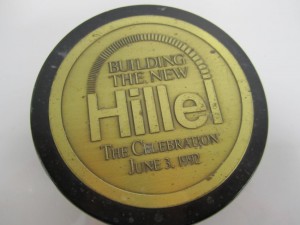 The efforts of many volunteer solicitors and the Hillel staff paid off. Once enough money was pledged to the Foundation, the building of the Wexner Hillel Foundation began. The construction lasted throughout the years 1993-1994.
The now-named Wexner Jewish Student Center is still located on 46 East 16th Avenue. The new building offers amenities including a library, rooms for meetings, offices for Hillel Staff, an auditorium, an art gallery, and two firsts for any Hillel Foundation: a fitness center, and a Kosher restaurant, which is frequently visited by OSU students as well as Columbus community members.8
Chapter 3-

Hillel's Local Leadership
National Hillel aimed to choose Rabbis to become the directors of each Foundation. There was no discrimination regarding sects – it was preferred to diverse denominational backgrounds. The Rabbis acting as Director for any Hillel Foundation were not to advise or base their Hillel on their own traditions; instead, they were expected to be a general Jewish representative on behalf of the B'nai B'rith Hillel Organization.8
Ohio State's first Hillel director, from 1925 to 1934, was Rabbi Lee Levinger, who received his bachelor's degree in Chicago, masters at Hebrew Union College in Cincinnati, and a PhD from the University of Pennsylvania.6 Levinger's other accomplishments include US Army service, as a Chaplain in France during World War I, being the author of two books: A Jewish Chaplain in France and Anti-Semitism in the United States, and a philosophy lecturer at The Ohio State University.6
Hillel's next director, Rabbi Harry Kaplan, whose career at The OSU Hillel spanned from 1934-1969, has been, to this date, the longest serving director. Before his employment at Ohio State, Kaplan spent nine years as a congregational Rabbi in Massachusetts.11 Rabbi Kaplan's involvement in the Columbus Jewish community was not limited to the Hillel Foundation, he was a past president of University Religion Council of Ohio State University as well as the Columbus Torch Club, a member of the board of Ohio Citizens Council, and was also one of the founders of Columbus Town Meeting.12 Rabbi Kaplan also spent his time serving as the Midwest Regional Director for the B'nai B'rith Hillel Foundations and as a member of the National Hillel Cabinet.12 Rabbi Kaplan was also the officiator of many weddings of students, alumni and other families during his time with Hillel.13
Upon his death at age 67, Hillel students, university staff, and members of the Columbus community gathered at Temple Israel in Columbus, Ohio on February 10, 1969 to commemorate and celebrate the life of beloved Rabbi and Hillel director.14  A eulogy was given in honor of Rabbi Kaplan by the International Director of the B'nai B'rith Hillel Foundations, Benjamin M. Kahn.14 Kahn spoke of Rabbi Kaplan's many accomplishments, including becoming the first president of the National Association of Hillel Directors in 1947.14  Kahn's memory of his beloved friend and colleague is one of a man full of life, "His life work with the young kept him, too, young at heart…He loved young people and defended them; they challenged him and he responded in kind. Though many years older, he understood them and was able to adjust to the changing climate of the campus and the community."14
Other past directors of the Ohio State Hillel Foundation include Rabbi Nathan Gaynor from 1969 to 1971, Aaron Leventhal from 1971-1980, with Rabbi Paul Golmb who held the position of director for some years of Leventhal's time at Hillel. Rabbi Golmb was a graduate of the University of Wisconsin and Hebrew Union College, New York. The next two rabbis to act as director were Rabbi Howard Alpert, from 1980 until 1986, and Rabbi Steven Abrams, from 1986 until 1993, until Joseph Kohane was recruited to OSU Hillel to make major programming changes.8
Joseph Kohane, has been the acting director of the Wexner Hillel Foundation since 1993. As a child of holocaust survivors, Kohane was born in Poland in 1953, and grew up in Brooklyn, New York upon his family's immigration to the United States in 1959.8 After attending a Hasidic Day School and an Orthodox High School, Kohane graduated from Hunter College in Manhattan with bachelor's degrees in English Literature, Psychology, and Jewish Studies. For graduate school, he was interested in exploring a liberal Jewish tradition and spent one year studying at the Reform seminary, Hebrew Union College in Jerusalem.8 Kohane never completed his rabbinical degree, but he did pursue graduate school at McGill, with a master's degree in Jewish Studies, with a focus on parshanut, the history of the Jewish interpretation of the Bible.8
Kohane felt that he didn't fit into any particular Jewish denomination, which is why he found the Hillel Foundation to be a perfect fit, he explained, "It's not about us, it's about the journey of the student that we're trying to facilitate."8
Kohane's first position at a Hillel Foundation was as a Programming Director at the University of Michigan, where he eventually became the Associate Director. He had a deep interest in working with people at a religious crossroads, where he often found himself throughout life, and according to Kohane, college students were the demographic which were the most open to exploring religion.8 He was driven to change the face of the University Hillel with new ideas for programming and advertising.
Because of his innovative ideas, he was sought out by the Ohio State Hillel, and was asked to come and work as the director during one of the Foundation's transitional times – the construction of the Wexner Hillel Foundation from 1993 to 1994. Kohane's impact on the Ohio State Hillel Foundation has been great; his leadership made the OSU Hillel a model institution for other Hillel Foundations with its new approach to marketing, image, and presence on the university campus8 Twice accredited by National Hillel, "This has become a storied Hillel – when National wants to partner to pilot new programs, we will often be included."8
The work Joseph Kohane has done with The Ohio State Hillel has affected him deeply; he has created deep friendships with partners, board members, and donors of the organization. Kohane, who has also been on the Executive Committee of the Board of Directors of National Hillel, takes pride in his work, "I have a fabulous staff, and the students here are great…It's been a privilege to participate."8
Because Kohane was not a rabbi, it was necessary for the OSU Foundation to hire a rabbi, separate from the director. Hillel employed Rabbi Eric Hammer, Rabbi LeighAnn Kopans, Rabbi Ben Berger, and Rabbi Sarah Smiley during Joseph Kohane's directorial career at OSU Hillel.
Susannah Sagan joined the OSU Hillel family in the late 1990s. While her first position at Hillel was the Director of Development and Marketing, Sagan eventually became the Associate Director.15 Sagan's responsibilities include overseeing OSU Hillel initiatives such as the Campus Entrepreneurs, Dorm Stormers, and Expanding Jewish Conversations as well as helping the entire OSU Hillel organization run smoothly on a daily basis.15
Rabbi LeighAnn Kopans joined the OSU Hillel staff in the fall of 2008. Rabbi Kopans was not raised in a Jewish home, but converted to Judaism as a college student. Rabbi Kopans felt a connection with Jewish tradition and the importance of questioning God and the Torah.16
After receiving her Bachelor's Degree in Sociology with a minor in Hebrew from The Ohio State University, Rabbi Kopans knew she wanted to be a Hillel Rabbi for Ohio State.16
Rabbi Kopans attended ReconstructionistRabbinicalCollege and graduated in 2008. She felt lucky to have been offered a position at her alma mater upon her graduation from rabbinical school.16 Rabbi Kopans thinks of her days at OSU Hillel fondly, she attributes Hillel for learning skills such as engagement, thinking outside the box, and measuring success.16 In addition to gaining various skills, Rabbi Kopans felt "really lucky to be part of an office 'family.'"
During her two years working at The Ohio State University's Hillel Foundation, Rabbi LeighAnn Kopans truly touched many students. She hopes that she was able to make Hillel an exciting and comfortable place for OhioState students to spend time – especially those who would not normally be involved.16
Rabbi Benjamin Berger, a current Hillel Rabbi began working at the Ohio State University Hillel in the fall of 2009. Rabbi Berger was raised as a Reform Jew in Los Angeles. He attended the University of California at Santa Cruz and received Bachelor's Degrees in both Political Theory and Judaic Studies.17 During his time at UCSC, Rabbi Berger became more observant of Jewish Law with the help of campus rabbis.17
After graduating with his duel degrees, Rabbi Ben Berger worked for CornellUniversity's Hillel, and shortly after the University of Michigan's Hillel. While at Cornell, Berger was a JCSC.17 At Michigan, Berger was a Berman Fellow – the fellowship position was an "apprentice to the executive director."17 He worked closely on special projects and learned many aspects of Hillel work. Berger's passion for working for Jewish people and the Hillel program peaked his interest in attending Rabbinical School.17
Berger wanted to offer more substance and content, and felt he had more capacity to be more impactful on student life.17 Berger was inspired by the rabbinical school Yeshivat Chovevei Torah (YCT) – a very new, modern and open orthodox rabbinical program.17 The school was started as a training ground for orthodox rabbis who were committed to working in the field – such as Hillels. Though his initial plan did not include returning to Hillel work, Berger found his way back to Hillel at OSU.17
After completing rabbinical school in 2009, was hired as the "Senior Jewish Educator" at OhioState's Hillel – it was an experimental position for Jewish life on campus.17 With the Jim Joseph Foundation, rabbis would work on campus with a different approach: focusing on relationship between development and education.17
When asked what influence working at OSU Hillel has had on him, Rabbi Berger responds "I've learned a tremendous amount about running an operation and about connecting with students, financials, and budgets from the team here."17 Berger gained a lot of advice from Joseph Kohane, and assistant director, Susannah Sagan.  Berger also said that he is still learning about what rabbi he is by what he is learning from students.17 During his time here, Rabbi Ben Berger has worked hard to provide many opportunities for content engagement for students. He thinks it is important for students to be engaged in Jewish education by storytelling and getting students to tell their stories.17
Rabbi Berger has also worked closely with the students involved with the Campus Entrepreneur Initiative. His passion for Jewish learning and student engagement are the drive behind the three positions he is said to hold: an educator, mentor, and pastoral counselor.17
Rabbi Sarah Smiley is the newest addition to the Ohio State Hillel Foundation. As a Columbus native, Rabbi Smiley grew up as a Reform Jew in a predominantly non-Jewish area of town.18 As a high school student, Rabbi Smiley was very involved with The North American Federation of Temple Youth (NFTY), and worked at the URJ (Union for Reform Judaism) camp, Goldman Union Camp Institute (GUCI) as a staff member. From the age of 16, Smiley knew she wanted to do something with Jewish life as her career.18
Smiley attended IndianaUniversity and received Bachelor's degrees in both Jewish Studies and Religious Studies.18 Throughout her time studying at IU, Smiley was an active member of the campus' Hillel Foundation – this activity solidified her desire to become a rabbi.18 She attended Hebrew Union College (HUC) right out of Indiana University. During her time at HUC, Smiley worked as a rabbinical intern for the youth department. This work furthered her future goals of not only becoming a rabbi, but becoming a rabbi who worked closely with young adults or youth.18
After graduating from HUC in June 2010, the newly ordained Rabbi Sarah Smiley was very interested in Hillel work, and was happy to find a job with OSU Hillel beginning in fall 2010. In her short time at Hillel, the Foundation opened her eyes to pluralism and creativity in religious practices.18
Student Groups, Events, and Programming by Decade
Chapter 4- Student Groups, Events, and Programming by Decade:

The 1920's
Even in its first five years of existence, the Ohio State Hillel Foundation was able to organize numerous student groups and committees which kept the involved Jewish student population busy with events – planning them and attending them, keeping the Hillel community up to date on Hillel news, and supplementing the Jewish university student's education with Jewish Studies courses.
Members of the Student Council, which was made up of made up of the chairmen and vice-chairmen of each committee, oversaw student affairs at the foundation.19 The Student Council worked closely with the Advisory Board, which was comprised of members of the Columbus Jewish community, came together to assist the director and Student Council in working on problems within the Foundation.19 Students were made aware of the happenings at Hillel through The Hillel Scroll, the Hillel newspaper, was written, edited, and released by the Publications Committee on a semi-monthly or monthly basis.20
Social events were planned by the Social Committee.21 events held during the 1926-1927 school year included a reception for new students at the commencement of each quarter, a buffet supper held once a quarter, Sunday evening musicales, a Purim Party, weekly bridge gatherings, a Passover Seder and their biggest social event, the Annual Hillel Hop.21 Over two hundred couples were in attendance at the second annual Hillel Hop in 1927.21 Other annual events planned by the Social Committee include Stunt Night, which was first held on January 23, 1926. The Social committee met regularly and their efforts reached many people.21
Though the Social Committee was attributed with bringing in large numbers of students to events, it was the Dramatics Committee with the Hillel Players which "has broken down barriers among students and made a reputation for Hillel."22 The Committee was in charge of producing the plays and selecting the cast, the first production as performed by the Hillel Players took place on March 6, 1926.22 The Hillel Players gained a reputation on Ohio State's campus "as the outstanding dramatic group on campus."23
Other social student groups included the Hillel Choir, which participated in Sunday morning services as well as other venues and events, 24 and an Athletic Club, where Hillel students participated together in intramural games, playing sports such as: basketball, indoor baseball, league baseball, tennis, horseshoe pitching, and relays – teams of both men and women were formed.25
Social outlets were not the only groups which Hillel available to students – because Hillel's mission was to bring OSU students closer to their Judaism, they offered a number of cultural and educational programs and student groups. The Ohio State Hillel's first director, Rabbi Levinger, taught courses on Jewish studies, particularly Biblical History and Literature, Hebrew, Jewish Philosophy, and Yiddish.26 The goal of the classes was to study and discuss topics which related most to a Jewish Student at an American University.26 The Menorah Society of The Ohio State Hillel focused on the study of Jewish culture and ideals. They were responsible for bringing key-note speakers to campus, and held discusses as well as inter-collegiate debates.27 Ohio State students were not strangers to Zionism in the 1920's, on February 24, 1926; OSU Hillel launched Avukah, the Zionist student organization.28 The word Avukah means "torch," and the goal of the group was to "bring the cause of Zionism home to university students."28
The religiosity of The Ohio State Hillel Foundation was not limited to student groups. The Hillel Foundation offered Friday night Orthodox services, where "an overwhelming minyan was present weekly," as well as Sunday morning services.29
The Hillel community was also dedicated to social welfare. The Committee for Social Welfare held a large fundraising drive to raise $1,000 for the Student Loan Fund, to assist students with financial problems.24 Students involved in Social Welfare also took time to visit sick students.30
Chapter 5- Student Groups, Events, and Programming by Decade:

The 1930's
Membership of the Ohio State Hillel Foundation cost a few dollars per year. Besides the expansion of Shabbat services to include a Reform Congregation as well as the original Orthodox Congregation, not much changed in the programming of Hillel between its first five years of existence from 1925-1930. The Ohio State Hillel was also an active member of the University Religious Council, along with various churches and other religious organizations in the campus area.
Chapter 6- Student Groups, Events, and Programming by Decade:

The 1940's
By the 1940's, Hillel was able to expand programming due to its auditorium (built in 1941), and The Schanfarber Memorial Building (built in 1948). It was also "…nationally recognized for its diversified program of Jewish activities and for its prominent participation in interfaith and inter-cultural activities… The Ohio State Hillel is nationally known for its Hillel Players, United Jewish Student Fund…"6
Chapter 7- Student Groups, Events, and Programming by Decade:

The 1950's
As of 1956, about 1,000 of the 1,600 Jewish students at The Ohio State University were participants in Hillel's programming.31 Though they had already reached a large proportion of the Jewish population of OSU, the Hillel staff was eager to increase student participation. The plan to reach these students was to expand efforts to dormitories, to bring unaffiliated students to the Ohio State Jewish community.31
The "Director's Report of 1955-1956" shares that the Foundation kept close relationships with the Jewish fraternities and sororities, the document attributes large participation rates in the United Jewish Student Drive, Purim Carnival, Stunt Night, and planning an Israel Independence Day celebration to the cooperation between the Foundation and the Greek houses with Jewish affiliation.
Rabbi Kaplan and his assistant director, Rabbi Segal taught Jewish Studies courses, including elementary, intermediate, and advanced Hebrew classes on Sunday mornings. For further education, Hillel offered a Forum series, which took place on Sunday mornings and Sunday afternoons. Scholars, artists, and lecturers were brought into the Foundation to present on pressing topics of the time – many included presentations on happenings in Israel and the Middle East.32   Some topics discussed during a Noon Forum from Winter Quarter 1952 were, "Radio and TV in 1952," by Dr. Harrison B. Summers, Professor in the Speech Department at OSU and "What Faces You as a Jew In 1952?" by Dr. Maurice Bernstein, the Executive Director of the United Jewish Fund.32
The forum series was not the only way the Hillel staff promoted Jewish learning. Hillel offered quarterly study institutes, where students were given the ability to move off campus to meet in groups of 15-18 to discuss religious texts or Jewish current events.32 The Hillel staff and community understood the importance of Israel education, and therefore implemented many campus and community-wide discussions and debates regarding Israel and Zionism. These discussions were in part held as a response to anti-Israel and anti-Jewish actions made by Arab students.32 Israeli citizens were often involved in meetings and debates.32
Hillel's programming was considered to be six-fold, which included religious, cultural, social, and interfaith programming, as well as community service, and personal service.31 As an extension of campus debates and discussions about Israel, Hillel students created a Student Zionist Organization. Jewish and non-Jewish students met to study Hebrew, Zionistic beliefs, and to question their relationship to Israel as American Jews.32 The Student Zionist Organization was also responsible for putting together an Israel Independence Day celebration.32
Friday evenings at Hillel continued to be reserved for Shabbat observance. Friday evening services were held weekly at the Hillel Foundation from 7:00 until 8:00 throughout the school year. In both the Traditional and Liberal rituals, the Cantor and reader were generally students who were involved in the Religious Committee; sermons were given by Rabbi Kaplan or Rabbi Segal. Often, Shabbat services were sponsored by the Jewish fraternity and sorority houses.31 Once services let out, an Oneg Shabbat was held on a weekly basis. The Oneg was usually a time of celebration – for socializing, singing, or discussions, especially when a holiday was approaching. Though Hillel did not hold a weekly Shabbat meal for students, the Foundation ran a Kosher Eating Co-op, making Kosher meals available five days a week.31
Other weekly activities, events, or meetings included book review series, open house, forums, music appreciation series, IZFA, Hillel Orchestra,32  Personal Services Committee, Hebrew classes, Hillel Folk Dancers, Hillel Players, Interfaith Committee, Choir, and Publications, and The Freshman Council which was created in 1954.13 The Freshman Council was formed to make opportunities available for incoming students to become leaders in the Hillel community. The Council was overseen by a senior student.13 Like past years, the Hillel student council was made up of the chairmen of all of the Hillel Committees.
Student groups at Hillel kept busy with events either at Hillel or elsewhere, with the common goal of promoting Jewish knowledge and the Jewish community. The Hillel Dance Group generally had 8-10 members and performed at special festivals, on television, and the Hillel Awards Banquet. Once a quarter, Hillel had a segment on WOSU (Ohio State's radio station) as well as a program on WBNS-TV.31 It was in these segments that the director or associate director of Hillel would send out messages which dealt with Jewish religion and culture.31 The Art and Publicity Committees worked together to design and distribute posters and flyers to advertise Hillel events. Some of the busier times for the Art and Publicity Committees were right before the start of each quarter, when the students would print and send out mailers to every Jewish student to alert them of the upcoming quarter's activities.32
The Ohio State Hillel Foundation continued to emphasize the importance of cooperation between different religious or ethnic organizations. The Interfaith Committee planned and held many events, including weekly speakers or films for both Jewish and non-Jewish students. The Interfaith Committee was also involved in The Annual Religious Recognition Dinner – an event to "honor religious foundation leaders who advance inter-cultural relations on campus."31
In addition to promoting friendly interfaith relations, Hillel students were committed to community service, so, fundraisers were a big part of Hillel's quarterly events. The money raised from fundraising drives along with the all of the proceeds from Stunt Night was donated by the Foundation to The United Jewish Fund of Columbus. Many students worked at Columbus Synagogues to teach Religious schools on Sundays, seven students were employed at Hillel as a part of the work/scholarship program, and two students even lived in the building in the mid 1950s to serve as caretakers of the building.13
The Ohio State University's Hillel Foundation offered many opportunities for students to gather in large settings, for both religious and social events. Around 700 students attended Yom Kippur services in the fall of 1955, similar numbers attended Passover Seders (either Liberal or Traditional).13 Similarly, around 400 or 500 students attended social programs such as the Fall Freshman Brunch or the Quarterly Combo Open Houses.13
Chapter 8- Student Groups, Events, and Programming by Decade:

The 1960's
The year 1960 brought great joy to The Ohio State University's Hillel Foundation. It was the Foundation's 35th year on Ohio State's campus, as well as Rabbi Harry Kaplan's 25th anniversary of working at Hillel. In honor of these two milestones, a celebration was held. Members of the B'nai B'rith, clergy from Columbus synagogues, Ohio State Faculty, and members of the Hillel Advisory Board were in attendance.
The Foundation continued its normal activities and events throughout the 1960's. Hebrew and Bible classes were weekly events along with Shabbat services, Oneg Shabbat, Sunday morning brunches and book reviews with the rabbis, and the once monthly "Morning Meditations" on WOSU were increased to weekly airings.33 Luncheon Forums were continued, and often was a platform for well-known Jewish figures to come and speak to students. Zalman Schacter, an influential follower of the Lubavitch Hasidic Movement spoke at the OSU Hillel in the winter quarter of 1965.34 Student groups including the Hillel Student Council, Choral Group, Hillel Players, and the Folk-Dancing Group met often throughout the year – on an either monthly or weekly basis.35
Special events were continually held throughout the years – most to commemorate Jewish holidays such as Passover seders (including an interfaith seder), High Holy Day services, Chanukah parties, Purim Carnivals and an Israel Independence Day celebration. Hillel, of course, provided a social outlet for OhioState undergraduate and graduate students, as well. They continued successful events of past years such as the Combo Open House, Hillel dances and the end of the year Hillel Awards Banquet.
In the mid 1960's, the yearly membership was slightly raised to $5 a year. Hillel used quarterly pamphlets to not only advertise the goings-on at Hillel, but also the Foundation's amenities. In the "Spring 1965" brochure, Hillel was advertised as having a "library, lounge rooms, a telephone, piano/radio/TV, game room, typewriters, newspapers, classical record library, magazines, meeting rooms, and a music room."
Along with its many amenities, Hillel created a space where, those who wished to, could debate religious and social aspects of Jewish life. Within the Hillel Forums, students could openly discuss topics such as Anti-Semitism in America,37 the changing Jewish community of Europe, and problems in prayer.38
Unfortunately, the end of the 1960s came with great sorrow for the Hillel and general Columbus Jewish community. Just before his 35th year as the director of Hillel, Rabbi Harry Kaplan passed away. A memorial service was held on November 2, 1969 at The Ohio State Hillel Foundation.
Chapter 9- Student Groups, Events, and Programming by Decade:

The 1970's
Despite the death of Rabbi Kaplan, the Hillel community was able to carry on on with normal events and programming. Much of the focus was on education, the arts, volunteering, religion, and Israel.
Educational and arts courses (called Prozdor) were available to students at the cost of $3 per course, or free with a Hillel activity card.39 Hillel also provided many opportunities for students to get involved in cultural, fine, and performing arts. Following the traditions of past years, Hillel Dancers and Hillel Players continued meeting and performing, with the addition of Shalom 77 78 (a Hillel singing group in the school year of 1977-1978).39 Hillel provided dance workshops for Israeli and modern dancing, special performing artists, and monthly exhibits in the Hillel gallery.
Hillel promoted volunteer services such as a Big Brother/Big Sister program, visits to the Columbus State Mental Hospital, services to the Heritage House, and the Jewish Center and Community Organization.39 In return, Hillel offered counseling services, which ranged from personal counseling, conversion, marriage, to educational referrals.39
Women's programming was also available beginning in the 1970s. The women's programming was said to have two basic functions in 1977, "to meet the needs of women in the OSU area by providing such services as classes, workshops, entertainment and more," and to "promote Hillel as a place for women to interact, learn, teach, reach…"40 Some of the classes offered included assertiveness training and personal development courses, self help clinics, monthly feminist meetings, special speakers and events, and a monthly women's minyan.40
As it would with any religious institution, much of Hillel's concentration was on religion. Friday night Shabbat services (both "creative" and traditional) along with Shabbat morning services on Saturdays, followed by a lunch, were held throughout the years. Other Jewish holidays were also observed. The Kosher Dinner Co-Op provided kosher meals for students on week nights, Passover lunch and dinner were also provided during the holiday.
Israel was also a focus of much of Hillel's programming. Many of the activities and events were planned by the Israel Action Committee, the Israel Info Center, and the Israeli Student Organization.41 These groups planned and implemented film festivals, Israeli Folk Dance meetings and performances, a look at Kibbutz life, Aliyah Days, a Yom Ha'Atzma'Ut (Israeli Independence Day) celebration, and brought in special speakers to discuss Zionism.41
Other events and programming such as films, speakers, weekend retreats, workshops, Jewish Fund drive, and sports competitions was available to students at the Hillel Foundation in the 1970's, as well. Hillel continued its commitment to inter-faith relations on campus, and because of this, there were many joint programs of various campus ministries.39 Hillel provided programming with Jewish Greek houses, and with Graduate students and Faculty.39
Chapter 10- Student Groups, Events, and Programming by Decade:

The 1980's
      According to an article titled "Brief History of the Hillel Foundation," the "responsibility for student programming at OSU Hillel has been delegated to the Jewish Student Activities Board (JSAB) since 1980."7 The JSAB was said to follow the model of the Jewish Federation, and "serves as an umbrella organization and central funding agency for Jewish student groups and committees on campus."7
Such student groups at Hillel during the 1980's were Children of Holocaust Survivors, and the continued Big Brother/Big Sister program. The Children of Holocaust Survivors strove to educate the campus community of the atrocities of the Holocaust, as well as the realities which they and their parents faced in modern times. This group held events such as a Kristallnacht memorial on the Oval.7
Hillel students became activists on behalf of many people. The members of The Tzedakah Project regularly volunteered at organizations such as the Leo Yassenoff Jewish Community Center with senior citizens or with patients at The Children's Hospital.42 Fundraising groups were implemented to run drives of which the proceeds benefited Hillel or other groups in need. Students involved in the Student Forum on Israel planned events to educate the campus community about Israel.42 Similarly, students who were involved in the Student Struggle for Soviet Jewry group advocated on behalf of Jews in the Soviet Union.42
Though advocacy has been a big part of Hillel programming, much of the focus is on the social aspects of the Jewish students at The Ohio State University. Through the years, there has been what seems like, an unending list of events and programs which have provided a Jewish outlet for daily life such as social situations or religious life. Social activities were planned and implemented for various students at different stages in their college education. The "Hell If I Know Organization," or HIIKO, planned activities for students living in the dorms, the Social Committee planned happy hours, parties, concerts, and movie nights for all students, and The Grad Group provided de-stressing programs for graduate students.42 Another social (yet at the same time, educational) group for graduate students was the National Jewish Law Students Network, which brought Jewish law students together to promote education and develop students' leadership skills.42
Students were also encouraged to build stronger Reform, Conservative, and Orthodox communities on campus through the Religion Committee.42 This community planned Shabbat and other holiday celebrations.42 In an addition to bringing different denominational communities together, the Jewish Identity Committee provided a safe space for students to discuss how students viewed their "Jewishness."42 Students were given the opportunity to discuss and debate intermarriage, assimilation, and other topics pertaining to the ever-changing world in which they lived.42
Chapter 11- Student Groups, Events, and Programming by Decade:

The 1990's
The 1990's was another decade of great change for the Ohio State Hillel community. Plans were put in place, in the late 1980's, to demolish The Schanfarber Building, and build a brand new Hillel Foundation on the same land. During this time, Hillel offices were located at a temporary address: 1880 N. High Street. Because the small offices could not adequately house all Hillel events, the administration utilized SummitChurch, located at 82 East 16th Avenue (next door to the Hillel land) and Fraternity Managers Association (FMA), located at 47 East 16th Avenue (across the street from Hillel's land).
Though changes were made to accommodate the various Hillel locations, programming in the early 1990's went smoothly. Hillel groups continued to hold events and programs which had recently been implemented, such as the 24-Hour Yom HaShoah Vigil on the oval.43 This event was held by the Children of Holocaust Survivors group to commemorate the millions who perished during the Holocaust. Viewings of Holocaust films and guests such as the novelist, Art Speigalman, were great ways for students to get involved and to promote awareness of the Holocaust.43 Programming for graduate students, such as Jewish Law Student Association and the Jewish Medical Students, were continued, as well as lectures on social and religious subjects.44
Along with regular programming such as Shabbat services and dinner (which cost $4 per dinner), holiday observances, and annual social events, Hillel began to offer many more opportunities for students. A Women's Passover Seder, an inter-faith Passover Seder (which was co-sponsored by the Summit United Methodist Church), a Yom Ha'Azma'Ut celebration, and the End of the Year Block Party were main staples in the Hillel programming.43 They continued to offer learning sessions for students such as courses and mini-courses, for a small price. Courses, which cost $10, offered included Hebrew and Yiddish lessons (at different levels ranging beginner to intermediate), learning the Jewish prayer book, and a discussion of the Torah portion of the week.45 Mini-courses, which cost $7 per course, included challah baking and lessons on Reconstructive Judaism.45 The "Autumn 1994" calendar also advertised Israeli dancing and a Jewish Women Writers Reading Circle to encourage continued Jewish and Israeli learning.46
Newer programming such as overnight road trips to Washington, DC and other fun activities planned by the student group, Ruach, were well received by students. Ruach, Hillel's social group, offered opportunities for students to truly engage with one another during overnights and ski trips, such as they did in the winter of 1995.47
The new Wexner Hillel Foundation opened its doors autumn quarter of 1995. The first Shabbat services at the new facilities were held on September 2, 1995.48 Student groups such as Ruach, Social Action Committee, Russian Café Social, Visions, Young Jewish Professionals of the Columbus Federation, and the Jewish Awareness Committee continued to plan programs for students in Hillel's new home.48
New groups and services were offered to students along with the brand new building. The newly-formed Hillel a capella group, the MeshugaNotes met frequently to provide beautiful Jewish and secular music to the Hillel and Columbus Jewish communities. The student group, Family (also known as Mishpacha) was a group for Gay, Lesbian, and Bisexual Jewish students. Family held its first meeting on April 1, 1996.49 Hillel also offered testing of Tay Sachs and Sickle Cell Anemia on its premises in 1996.49
The year 1997 brought back the once highly celebrated student group The Hillel Players. Students were proud to bring back the well-known group of the 1930s and to bring it into modern time.44 Other student groups paving the way for the approaching millennium included the Hillel Internet Task Force, Starfish (a revamped community service group), and the Environmental Group, which worked to make the Hillel community more environmentally and future-friendly.44 Groups such as Buck-I-Pac and United Jewish Appeal raised awareness about Israel as well as provided money for Jews in Israel as well as around the world, by means of the Jewish National Fund. Students were also able to receive scholarships and grants to study and travel in Israel. Students of different denominations such as Conservative/Egalitarian, Orthodox, and Reform also had the freedom to practice within their own minyans on a weekly basis. 44
Student groups met frequently, they met to practice international folk dances, women met within the Jewish Women's Collective to discuss feminism and the feminine spirit.44 Groups seem as if they became more specialized to fit the needs of the growing student population. The Kosher Dining club continued to be available to students who kept kosher, as well as tutoring on Jewish and secular topics.44, 50
Chapter 12- Student Groups, Events, and Programming by Decade:

The 2000's
Along with the new millennium, Hillel created more student groups and opportunities. These opportunities, which were included in the Autumn 2001 quarterly mailer were listed as: Café Programming Crew, FitnessCenter, Greek Chai, Hotep-Shalom, Jam With Da Jews, Jewish Enrichment Center, Jewish Queers, and the Meshuga-Notes.51 These groups, once again, updated the OSU Hillel "curriculum" for the changing times to become more relevant to Ohio State students.
The newly built Wexner Foundation not only created more space for student organizations to meet, but also allowed for more student jobs to be created. For example, students were hired to work in the new kosher café within Hillel. The Hillel staff and student leaders were constantly changing or breathing new life into student groups. What once may have been called "Sports Committee" in the 1920's or 1930's was now called "Jam With Da Jews," a group which played basketball the Jesse Owens North campus facility.51 The Hillel Foundation also found new ways to continue their commitment to diversity by creating student groups such as Hotep-Shalom, a partnership of Blacks and Jews as well as Jewish Queers, a Jewish community for Gay, Lesbian, Bisexual, and Transgendered students, along with their affirming allies.51
Other activist groups at Hillel in the first decade of the new millennium were TEVA, which promoted environmental awareness through nature-based activities as well as the VIOLET (Violence In Our Lives Eliminated Together) Campaign.51 Through these activities, students worked hard to make the world a better place through the Jewish value of Tikkun Olam. Good deeds were not only limited to students at Hillel, Jeanie and Jay Schottenstein, a local couple in the Columbus Jewish community, did their part and underwrote all Shabbat dinners for students at Hillel.51
Hillel groups, such as Holocaust Awareness Council continued to work hard for Hillel on Ohio State's campus. The events commemorating Yom HaShoah, such as the 24-Hour Vigil and Holocaust-themed movies were expanded to an entire week: Holocaust Remembrance Week. Students on the council began planning events to last an entire week to commemorate those lost in the Holocaust. Events such as Ribbons of Remembrance, a day where students were stationed all over campus and gave out ribbons of different colors to represent the diverse population of people who were killed and Shabbat of Remembrance, which usually involved a Columbus Holocaust survivor, Murray Ebner, and his family became annual events.
In the year 2008, OSU Hillel, under National Hillel, began a new student group called the Campus Entrepreneurs Initiative. This group was made up of 12 sophomores who had been recruited and interviewed for the position. The job was to engage with Jewish students on Ohio State's campus who weren't involved in Hillel life. The students hired for the position were sent to a training retreat in California to meet with other Campus Entrepreneurs and learn from their past experiences. Many of the responsibilities which fell upon the CEI's (as they were called) were to seek out other Jewish students in classes, dorms, or other student organizations and get to know them, the goal for each CEI was to engage with 60 new students for the year.. The CEI's encouraged their new acquaintances or friends to attend at least one Hillel-sponsored event, in the hopes that they would become more involved in Hillel life. The first year of the CEI program (2008-2009) was a huge success, and the program was continued.
Chapter 13 Student Groups, Events, and Programming by Decade:

The 2010's
Hillel programming in 2010 included student groups such as Buckeyes for Israel, Greek CHAI, Holocaust Awareness Council, Israel Action Committee, Starfish, Jewish Women's Collective, Jewish Business Students Association, the Student Board, and the Meshuga Notes. Hillel also provided programming catered toward graduate students at Ohio State.15 These student groups continue to carry on the tradition of the past several decades by advocating on behalf of Israel, doing community service, remembering the Holocaust, and creating a stronger Jewish community.15
End Notes
"Frankel, Baldwin and Kuhn," B'nai B'rith Hillel Foundations at American Universities, 1945, 5-6.
"B'nai B'rith Steps In," B'nai B'rith Hillel Foundations at American Universities, 1945, 6.
"Hillel Objective," B'nai B'rith Hillel Foundations at American Universities, 1945, 1.
The Hillel Scroll, Annual Number, 1927, 1.
"Dedication and House Warming," The Hillel Scroll, 1934.
"Forward," Dedication Exercises: B'nai B'rith Hillel Foundation at the Ohio State University – Edwin J. Schanfarber Memorial, February 6, 1949, 1.
  "A Brief History of The Hillel Foundation," The B'nai B'rith Hillel Founation at The Ohio State University: The programs, services, operating costs – FY 1989/90 Allocations Request to the Columbus Jewish Federation Allocations Committee, May 8, 1989, 12.
Personal Interview with Joseph Kohane, March 9, 2011.
"Does Not Segregate," B'nai B'rith Hillel Foundations at American Universities, 1945, 8.
"The Executive Staff," B'nai B'rith Hillel Foundations at American Universities, 1945, 6.
"Rabbi Harry Kaplan," Collected Papers of Rabbi Harry Kaplan: Director, B'nai B'rith Hillel Foundation at Ohio State University, Columbus, Ohio, 1935-1969, 1979, I.
Rabbi Paul Golomb, "Forward," Collected Papers of Rabbi Harry Kaplan: Director, B'nai B'rith Hillel Foundation at Ohio State University, Columbus, Ohio, 1935-1969, 1979, III.
"Winter Quarter Schedule 1955," The B'nai B'rith Hillel Foundation at The Ohio State University, 1955.
"Eulogy for Rabbi Harry Kaplan," Collected Papers of Rabbi Harry Kaplan: Director, B'nai B'rith Hillel Foundation at Ohio State University, Columbus, Ohio, 1935-1969, 1979, IV.
Personal Interview with Susannah Sagan, March 17, 2011.
Personal Interview with LeighAnn Kopans, May 4, 2011.
Personal Interview with Benjamin Berger, April 12, 2011.
Personal Interview with Sarah Smiley, April 14, 2011.
"The Student Council," The Hillel Scroll, Annual Number, 1927, 8.
"Publications," The Hillel Scroll, Annual Number, 1927, 9.
"Social," The Hillel Scroll, Annual Number, 1927, 11.
"Dramatics," The Hillel Scroll, Annual Number, 1927, 15.
"Hillel Players," The Hillel Scroll, Annual Number, 1927, 20.
"Choir," The Hillel Scroll, Annual Number, 1927, 30.
"Athletics," The Hillel Scroll, Annual Number, 1927, 16.
"Classes," The Hillel Scroll, Annual Number, 1927, 23.
"Menorah," The Hillel Scroll, Annual Number, 1927, 18.
"Avukah," The Hillel Scroll, Annual Number, 1927, 19.
"Student Congregation," The Hillel Scroll, Annual Number, 1927, 12.
"Social Welfare," The Hillel Scroll, Annual Number, 1927, 10.
 Rabbi Harry Kaplan, "Director's Report, 1955-1956,"B'nai B'rith Hillel Foundation at Ohio State University: Director's Report 1955-1956, 1956, 1-8.
"Winter Quarter Schedule 1952," The B'nai B'rith Hillel Foundation at the Ohio State University, 1952.
"Spring Quarter Schedule 1960," The B'nai B'rith Hillel Foundation at the Ohio State University, 1960.
"Winter Quarter, 1965," B'nai B'rith Hillel Foundation at the Ohio State University, 1965.
"Spring Quarter, Schedule 1961," B'nai B'rith Hillel Foundation at the Ohio State University, 1961.
"Spring Quarter, Schedule 1961," B'nai B'rith Hillel Foundation at the Ohio State University, 1961.
"Spring Quarter 1963," B'nai B'rith Hillel Foundation at the Ohio State University, 1963.
"Spring 1966," B'nai B'rith Hillel Foundation at the Ohio State University, 1966.
"Happening at Hillel 1977-78," B'nai B'rith Hillel Foundation '77 '78, 1977.
"Women's Programming," Winter Quarter '77, Hillel at O.S.U., 1977.
"Israel Programming at OhioStateUniversity: November '76," 1976.
"Fall Quarter Update," B'nai B'rith Hillel Foundation at the Ohio State University, 1988.
"Hillel Events Spring Quarter 1994," B'nai B'rith Hillel Foundation, 1994.
"Wexner Jewish StudentCenter – Spring 1997," OSU Hillel, 1997.
"Winter 1994," B'nai B'rith Hillel Foundation, 1994.
"Autumn 1994," Hillel, 1994.
"Hillel Events Winter Quarter 1995," Wexner Jewish Student Center, 1995.
"Hillel Events Autmn Quarter 1995," Wexner Jewish Student Center, 1995.
"Hillel Events Spring Quarter 1996," Wexner Jewish Student Center, 1996.
"Hillel Calendar," Wexner Jewish Student Center, 1998.
"The OhioStateUniversity Hillel: Fall 2001," Hillel at the Ohio State University – Wexner Jewish Student Center, 2001.