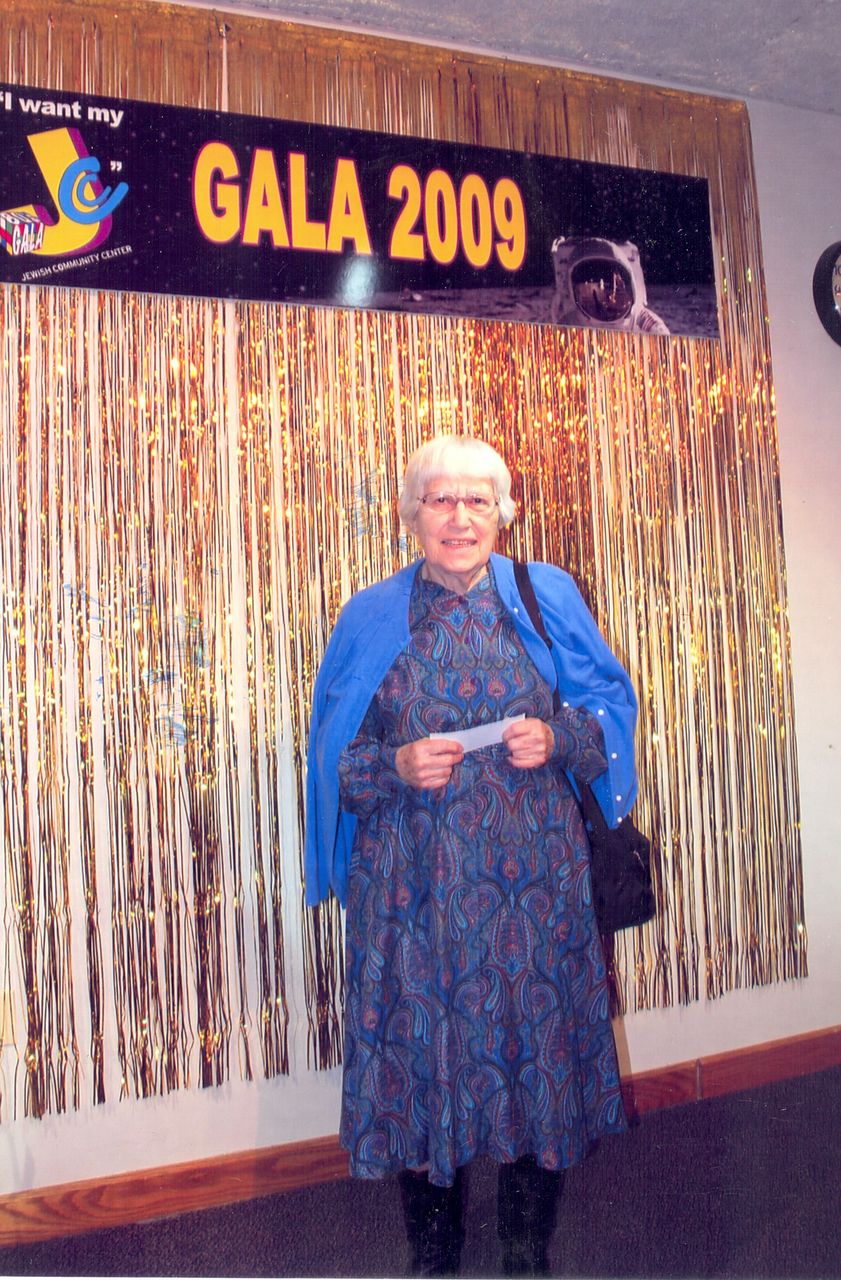 This interview for the Columbus Jewish Historical Society is being recorded on July 17, 2009 as part of the Columbus Jewish Historical Society's Oral History Project. My name is Marvin Bonowitz and I'm interviewing Honey Abramson and this is taking place in the Esther Melton Building. Honey, you like to be called Honey but tell us what your legal name is.
Abramson: Harriet.
Interviewer: Okay and we've been friends for 76 years so I remember when you came to Columbus from Detroit, I believe.
Abramson: Right.
Interviewer: What brought your family to Columbus?
Abramson: My father came here to work in my uncle Max Schaffer's Reliable Laundry. But my father's sisters who were in this country were all in Columbus, so he came to join them and worked for my Uncle Max.
Interviewer: Okay you mentioned the Schaffer family and you also had the Zieglers were your cousins too.
Abramson: My father had three sisters in Columbus, Max and Esther Schaffer, Esther was his sister, Rose and Maurice Ziegler, another sister, and the other sister had no children. That was Lill and Bill Broner.
Interviewer: Would you like to tell us about the children of the families, for example, the Zieglers. They had four children.
Abramson: The Zieglers had four children. Harold the oldest was active in sports. He was a table tennis player and a bowler of some fame and he had a drug store on the corner of Beck and Parsons which I'm sure you'll remember. Milton, his younger brother went to Ohio State and was also active in table tennis.
Interviewer: We knew him as Mickey.
Abramson: Mickey, and he became a veterinarian. He practiced in Columbus on the corner of Kelton and Livingston for many years then moved to California. Bernice was the oldest daughter and she was a pharmacist also and worked in the drug store. In later years she became very religious and was, entered into an arranged marriage with a "rabbi," I think he was a teacher in Israel. She is still in Israel. Her husband has died. She calls herself "Brindel" now . . . . and her last name is Newman. She's been living in Israel. Laura is the next daughter and she is an accomplished sculptor. She did the "Burning Bush" copper sculpture in front of Temple Israel and she lives in Lucca, Italy now with her husband who is a symphony conductor.
Interviewer: Are they in Columbus at this time?
Abramson: No they do visit. Once or twice a year they come here for a visit. The other family would be the Schaffer family and Ruth was, led the Golden Age Program at the Jewish Center some years ago. She graduated in Social Work. She lived mostly in Cleveland and now is back living in Columbus. She ran the Columbus International Program for twenty-some years and she is now retired. Larry her younger brother is active in real estate. He both owns and manages real estate. He is very active in the community. I think they have a permanent chair set aside for him at the Foundation or the Federation, whatever. He was honored by the Jewish Center for his contributions, at one point. He is a member of the National Sammy Foundation. He was a member of Sammy when he was at Ohio State.
Interviewer: Sigma Alpha Mu?
Abramson: Sigma Alpha Mu Fraternity and he is very active in the organization and he also was honored, was on, has been on the Board of Hillel for many years. He does many things in the community. He is now somewhat retired from that but he is still working in real estate management and ownership.
Interviewer: When you, do you want to talk about some of the places you lived in Columbus. I remember that . . . .
Abramson: Well you know one of them. When we came to Columbus (1930) we lived on the corner of Gilbert and Mooberry; 572 Gilbert Street. It was a duplex, up and down. And the Zieglers lived about a half a block up the street. And we stayed there for about two years. Then we moved to 1292 Oakwood Avenue and we lived there for one year. And then the Bonowitzes moved out of their half double at 860 Parsons and we moved in. The rent was $15 a month. Later it increased to $20 a month. We stayed there until 1942 when my parents bought their first house on Kelton Avenue. 1076 Kelton and the price of the house, believe it or not, was $5,250. And that's where I lived until I was married and moved out of the family home.
Interviewer: Uh huh. Do you remember the neighborhood on Parsons Avenue?
Abramson: Oh very well.
Interviewer: Describe it and who were some of your neighbors.
Abramson: Well the most important thing about Parsons Avenue was it was one block from Wager Street and of course the "Wager Street Rats" are very famous in Columbus. Many, many people in town lived on Wager Street and I lived one block south and one block west of them so I associated with them. I used to catch the bus for Hebrew School on the corner of Wager and Forest and I think all four corners were lived in by young Jewish kids and it was the center of a lot of Jewish activity. And across the street from us was Ruth Seidenberg Kahn who is still living in Columbus. This is a little sidelight. There was an A&P Grocery Store a couple of blocks up on Parsons and I would go shopping for my mother and buy her a pound of Eight O'Clock Coffee for 27 cents and we used to go to the Victor Theater on Livingston Avenue. My brother and sister and I would walk up, what was, it must have been more than a mile.
Interviewer: Was the Victor on Livingston or Whittier?
Abramson: Livingston.
Interviewer: Livingston?
Abramson: It was right near the Margulies Department Store.
Interviewer: Okay.
Abramson: And for ten cents we saw a double feature, two color cartoons, one black-and-white cartoon, a serial, coming attractions and the news, all for a dime. And we used to walk there and walk back home. But Parsons Avenue was not a heavily Jewish neighborhood but we were close enough to Wager Street and next door, of course, was Marvin's grand- mother and then her second husband. It was a, I played with other Gentile kids in the neighborhood. It was a typical neighborhood I think, in those days, which I don't think you find so much any more. There was, I think, more neighboring in those days than there is nowadays.
Interviewer: Were there gas outlets in your house…
Abramson: Yeah.
Interviewer: …when you moved in?
Abramson: No, we had electricity.
Interviewer: Yeah.
Abramson: There may have been gas outlets on the walls. I don't remember that.
Interviewer: How about anything that was standing in the yard?
Abramson: There was a large garage behind, sort of, out in back. Standing in the yard were some wonderful sour cherry trees which we used to play on and we used to play in the barn and I'm not sure why the barn was there.
Interviewer: Well my grandfather was a peddler.
Abramson: Oh.
Interviewer: And he didn't have a good knowledge of English so he got himself a horse and wagon and he kept the horse in that garage.
Abramson: And we used to play back there, of course.
Interviewer: It was two stories high and we could run up and down the ladder and have a good time.
Abramson: Yeah. So did we. There was a streetcar track in front of our house and it became so much a part of our being that if a streetcar was going by we just stopped talking until it was by and then resumed our conversation. And it just became so much a part of our life that we were very used to it. Of course it was handy for us. I think streetcar fare was a nickel. I don't remember.
Interviewer: It was three cents for kids and six cents for grown-ups. But you could get a strip of five tickets for a quarter.
Abramson: Because I wasn't a grown-up. But we, the streetcar was just a part of our life and we could take it anyplace.
Interviewer: Even during the night.
Abramson: I don't remember that. I'm just . . . . I don't remember that.
Interviewer: Well the street car ran during the night. But living there, you're used to it . . . .
Abramson: Yeah.
Interviewer: and it doesn't bother you.
Abramson: And another thing I remember, we got our first refrigerator. Until then we had an ice box and ice was delivered by the ice man. While we were living on Parsons, my mother's sister in Detroit gave my mother her old refrigerator and we had the motor put down in the basement and the refrigerator was upstairs and we stopped using ice and became modern and had the refrigerator.
Interviewer: Did you have hobbies or jobs or what, how did you spend your time out of school?
Abramson: We spent . . . .
Interviewer: And what schools?
Abramson: Well Siebert Street School. When I lived on Oakwood Avenue in the first grade, I went to Heyl Avenue School. Then when we moved to Parsons Avenue I went to Siebert Street School and I went there from the second grade through the sixth grade. I took tap dancing lessons at Schonthal Center taught by Herman Silverman who later became Herkie Styles, a comedian. We spent a lot of time at the Center. My sister belonged to a high-school sorority that met there. I went there for tap dancing lessons.
My brother was a cub scout, Troop 126, and a lot of activity was centered at the Schonthal Center. We spent a great deal of time there and otherwise we just played in the neighborhood with kids. We kind of made our own fun. My first bicycle was Rosalind Bonowitz Marguiles' castoff. My parents bought it for me and then I had my own bicycle, two-wheel bicycle. But we just played in the neighborhood mostly.
Interviewer: You mentioned the Schonthal Center where you had your tap dancing lessons and that was the first Jewish Center which was dedicated to the Jewish community by . . . .
Abramson: Joseph Schonthal.
Interviewer: Joseph Schonthal.
Abramson: Yeah it was his family home I understand before and then he gave it to the Center and Rose Sugarman used to manage the place. She was a social worker or whatever. She ran the place and she had a little office under the stairs and the Rosenfeld family lived down the street and in later years of course, Mayer Rosenfeld managed the new Jewish center in Columbus. But the Center was very well used. There was an auditorium/gymnasium out in back in the, I guess it was the buggy house, and a garage or barn and they made a gymnasium out of it and there used to be sporting teams back there and so forth.
Interviewer: The house had been built as a mansion. It was very . . . .
Abramson: Elegant.
Interviewer: Yeah elegant and it had formerly been built by the Hoster family which owned the brewery. We had a Hoster Brewery and that had been their home and then it was bought by Schonthal and he was generous enough to recognize the need for the growing Jewish community who needed to have a central house.
Abramson: One interesting thing about the Schonthal home was that the third floor was an audito- rium with a stage. I guess people used to have dances if they were in that social class and it was a large auditorium and there was a stage in the front. Later on, and Marvin will remember this, the B'nai B'rith Women had shows and they used to practice up there in the auditorium at the Schonthal Center.
Interviewer: I don't know if anybody has spoken about the B'nai B'rith Womens' Annual Shows.
Abramson: Well it seemed to me that they did three of them.
Interviewer: Yes.
Abramson: And every year a whole bunch of people of all ages would gather for rehearsals with Jerry Grodin who at the time was leader of the Choir at Temple Israel and an accom- plished singer and he would rehearse the group up there and that would be presented, was it at the Hartman? At East High School? I can't remember where the show was presented.
Interviewer: At Bexley High School.
Abramson: Oh, okay. And it was a big production. There must have been 70 or so people in the cast and the comedians were, let's see, Ronnie Feerer and Henry Rosenthal, Iz Harris. . . .
Interviewer: Florence Zacks.
Abramson: Florence Zacks was in the chorus. And many people in town were . . . .
Interviewer: Dick Stein.
Abramson: Dick Stein sang. Ethel Shapiro sang. Eddie and Jack Feinstein sang and . . . .
Interviewer: The show as an amalgam of skits and popular songs and it had been . . . .
Abramson: And comedy, yeah, comedy routines.
Interviewer: …it had been produced by a man named Leo Romberg I believe.
Abramson: In Canada. Written for the B'nai B'rith Women in Canada and then we would get the scripts and . . . . There were parodies, new written words to famous songs and very well done and the shows were well received and fun to produce. We had a lot of fun at rehearsals and with the shows.
Interviewer: Who was in charge of the dances then?
Abramson: Dorothy Bloom.
Interviewer: Let's talk about Dorothy for a minute.
Abramson: She was my dance teacher. Later on I took dance lessons from her and she would, she had her own dance group, she had a senior dance group to which Mazie Cohen Feinstein belonged and then she took a group of people form the cast and formed another dance company. I have a picture at home and I can't remember who they were but there about eight of us who formed a dance group from the cast so there were two dance groups, Dorothy's semi-professional group that was really well done, and then some of us in the cast became part of the dance group.
Interviewer: Mention of, well she ran a, Dorothy Bloom had the Dorothy Bloom Dance Studio on the second floor . . . .
Abramson: North High Street.
Interviewer: on North High Street and her husband Jimmy Naulty was also a director and some of her other students were Mazie . . . .
Abramson: Mazie Cohen Feinstein, Ruth Freedberg, Dorothy's niece, Dorothy's sister's daughter, and Nancy Benjamin and I can't remember, Olive, I can't remember the names of the other girls. But they were about eight or nine girls who had been students at Dorothy's for many years and they were her top-notch dance group.
Interviewer: Mazie Cohen married . . . .
Abramson: Eddie Feinstein.
Interviewer: Eddie Feinstein.
Abramson: They actually met at our house. Mazie was a friend of mine and Eddie was a friend of my brother's. Now Eddie Feinstein and his sisters and brothers were the only other Jewish students at Siebert Street School that I knew of besides my brother and I because it was what is now German Village and it was a working-class neighborhood of Italian and Russian and Hungarian and German immigrants and I think that at the time that my brother and I were there, well Shirley Feinstein was a year younger than I. Eddie was a year ahead of me. But we were the only Jewish students at Siebert Street School.
Interviewer: And you mentioned Mazie. I think Mazie lives in California now.
Abramson: Mazie and Eddie now live in California and they are best known for their son Michael Feinstein who is a singer and pianist and performs nationally and internationally. And Michael also has a home just up the street from them. I think Michael has three homes, one in California, one in Arizona or someplace and a house in New York.
Interviewer: You wanted to talk about, well I wanted to talk about your hobbies. I know, I remember that you had a sail–, did you have a sailboat?
Abramson: After we were married we got into sailing. My ex-husband had been interested in water sports and when we got married we bought a sailboat and raced the sailboat at Leatherlips which is across the river from the Zoo and he became very competent at it, won many awards. In the fall of 1960 I became the part-time Secretary-Treasurer of the Thistle Class Association. A Thistle was the kind of boat we had and I held that job for 40 years. We traveled all over the country to regattas and National Championships.
I don't think we ever went out of the country but we went from Florida to Washington to New York Long Island, to Southern California. Every year the National Championship was held in a different part of the country. The highest finish we ever had in the Nationals was ninth but he won some District and Regional Championships and I used to crew-sail with him and when we raced the boat we were up at Leatherlips or whatever yacht club we belonged to at the time. Every weekend starting in the Spring and through the fall it was a family type of thing. We would race the boat and then stay and people would all picnic and have meals together and it provided a lot of friendships which still go on to this day and of course it provided me with part-time employment for 40 years.
Interviewer: And a lot of your activities in sailing took place at Griggs Dam, above Griggs Dam?
Abramson: Above Griggs Dam, O'Shaughnessy Dam, the next dam up the road a bit.
Interviewer: The Scioto River?
Abramson: Yeah and it was, as I said, across from the Zoo.
Interviewer: Sometimes Buckeye Lake?
Abramson: Yes we did sail at Buckeye Lake.
Interviewer: The Skilkens had a . . . .
Abramson: That's how we got started in sailing. When my husband and I were dating, Morris Skilken had a big 17-foot sailboat that he was no longer using. So he donated it to the Jewish Center and we started a sailing club and in the summertime we would go out to Buckeye Lake on Sunday afternoons and sail around the Lake and we had, it was a big boat and we could get 15 or 20 people on it and then it needed some work so Marlin rebuilt the centerboard well and then when we got married he decided if he was going to do that much work on a boat, it would be his own.
So we bought a boat, it was a kit boat, and he assembled parts of it in our living room which was partly empty at the time, and the hull was in our garage. He assembled the kit himself and then we started sailing and continued to sail for years and years and years after that, all summer long.
Interviewer: The Skilkens had a cottage at Buckeye Lake.
Abramson: Yes, it was kind of our headquarters and Stanley Skilken who was their younger son, was active in the group. He taught us sailing and knot-tying. This was a group at the Jewish Center, the Young Adults. There was a young adult group at the Center and they had a social every Sunday night and it was a meeting place for young Jewish people out of high school or out of college. It was a social group and we had camping trips and we went to out-of-town meetings and the Sailing Club was another activity and at one time I was President of that group and it was just a general meeting place and many young people used to come there every Sunday just to socialize and dance if you wanted to and we had special events and this was started by Mayer Rosenfeld when he was Director.
Interviewer: And he had a few boats too or a canoe at least.
Abramson: Yes, Mayer loved sailing and he was . . . .
Interviewer: I know he owned a canoe.
Abramson: Yeah he liked sailing and when Marlin decided to go to Ohio State, he'd been out of high school for twelve years.
Interviewer: Marlin was your husband?
Abramson: My husband, he decided he was going to go to college. He went to Ohio State and he started out in Engineering but that didn't suit him and Mayer Rosenfeld talked him into going into Parks and Recreation and in the summertime when he was at Ohio State, Mayer hired Marlin to lead a sailing camp at Hoover Dam and he did that for several years and Mayer and Dottie would go out sailing with us on our boat and Mayer always liked sailing and that was, and then it was our hobby.
Interviewer: Was Allan Blair in the group?
Abramson: No Allan Blair was sailing at Hoover Dam but we were sailing at Leatherlips and Allan Blair had a Highlander. We had a Thistle. You sailed with your class and he sailed a different kind of boat than we did.
Interviewer: Okay. There was another Jewish family that . . . .
Abramson: Gerstenfelds, Dave Gerstenfeld who had a store downtown . . . .
Interviewer: State and High.
Abramson: He had I think a Highlander also so he probably would sail with Allan Blair at Hoover. I want to mention that I went to South High School and I think, I have no way to prove this, but I think I was the first Jewish cheerleader, maybe in Columbus, probably, certainly at South High School because "nice Jewish girls" didn't go into cheerleading. But I did. I also was a cheerleader at Roosevelt Junior High School and that was not a hobby but it was something I enjoyed doing and it continued for two years at South High School and what else did you want me to talk about? Oh Market.
Interviewer: Market, yes. And I wanted you to, while we're talking about cheerleading. Would you give us a whistle please.
Abramson: Maybe. (Finger-in-mouth whistle then a second and third one). Well sometimes they're better than others. Stanley Skilken taught me to whistle.
Interviewer: Okay that was impressive. Okay.
Abramson: You wanted to talk about the Market. The Market was an institution in Columbus. Central Market was downtown between Mound and Town Street on Fourth Street and there was Market on Tuesday, Thursday and Saturday. People had stalls or stands, they called them. They lined both sides of the street and you would buy your merchandise at a commission house and go down at four or five o'clock in the morning and set up the merchandise.
And then people would come and buy fresh fruits and vegetables. I think there was one man who had a chicken store or chicken stand or something like that and a horseradish stand but it was basically produce, fruits and vegetables and there were many, many stands and my parents, when my father's job at Reliable Laundry became a Monday-only thing, he had to find some other means of making a living so he bought a stand at market and there were men who would come in the middle of the night and set up the stand. Then you would go down in the morning and set out your produce and people would come all day long and buy fruits and vegetables and then the Market House across the street was largely meat and chicken and cheese stores inside but outside were market stands and the bell would go off at 6:00 and that was the time to close up.
Saturday night I think it was 9:00 and it was an open stand and we had a double stand so it was probably 12 or 14 feet long and my parents would go down at four, five, or six in the morning and my sister and brother and I would walk from Parsons Avenue to Fourth Street and Town Street which was near where our stand was and we would walk down later in the morning and help at the stand, do whatever we could. My brother and I often sold shopping bags for a nickel a piece because when people picked up their produce, they needed shopping bags to put it into. And we spent many years there and there were many other people in Columbus who had stands at Central Market and I'm not sure when it stopped but it was an institution, well-known institution in Columbus for many years.
Interviewer: Do you remember any of the other people that had stands?
Abramson: Mrs. Ozeroff, Mrs. Baker, Al Kauffman's mother Evelyn had a stand because her husband had a commission house so she bought stuff from him and she had a stand and Brodsky, Sussman, Stetelman, Nate and Libby Cohen who later had a news store on Broad and High, Claybone, what's her name, she's . . . .
Interviewer: Claybone?
Abramson: Claybone.
Interviewer: Claybon? I don't know.
Abramson: Oh and I can't remember the others but there were, every time I talk about market, someone says, "Oh my parents had a stand there," or "my aunt" or "my uncle". There were many, many stands.
Interviewer: Before we had supermarkets we had grocery stores.
Abramson: Yes.
Interviewer: And the grocery stores didn't have the refrigeration or capability of having fresh fruit and if you bought your fruits and vegetables at the grocery store, it was from an earlier day and at the market, you got it right from the farmer.
Abramson: Yeah. And…
Interviewer: Did you have to pay rent or a fee of some kind during the week for the time you were there or did you . . . .
Abramson: I'm not sure how that worked. We used to store the physical stand and the drawers for the fruit and the canvas cover and everything in the basement of the businesses. We rented ours or we used space in the basement of, at the time it was Moskowitz's Butcher Shop and they would let the people with stands store their equipment in the basement under their store. Moskowitz had a butcher shop for many years. They had a son Richard. I don't know if they're still in Columbus but there were various locations there where the stands were stored and I don't know if we paid rent to the city or to the owner of the building we fronted. I'm not sure how that was done.
Interviewer: The time came when they built a permanent building on the market location. Do you remember when that was . . . .
Abramson: The Market House you mean?
Interviewer: Yeah the Market House.
Abramson: No that was there when we started. The Market House had always been there and that was where the butchers and bakers and cheese sellers had inside stands. That was there for many years. And…
Interviewer: Were there city offices on the second floor?
Abramson: No I don't think so.
Interviewer: Because City Hall of Columbus was in that area.
Abramson: Yeah Market House, no I don't think so. They did have bathrooms on the second floor but I don't know if there was anything else.
Interviewer: Okay. Let's…
Abramson: Oh there's something else I need to mention.
Interviewer: Please.
Abramson: I went to Ohio State for two years and then I stopped and shortly after that I became secretary to Rabbi Jerome D. Folkman and I was his secretary for twelve years. The Temple was at 925 Bryden Road when I started to work there and then they built and moved into the new building at 5419 E. Broad Street which they still use. Shortly after moving into the new building, my husband started at Ohio State so we moved up on the campus, 226 E. 17th Avenue, and I became secretary to the Editor of Chemical Abstracts for the four years that we were there. And then, during that time I had the part-time job as Secretary of the sailing group.
You wanted to talk about family. We had two daughters Debra and Lisa. Debra is married to Chan Wang, W-A-N-G, and even though he was from Delaware, Ohio, they met when they were both working in the Chicago area. Oh I need to back up. After Marlin got his undergraduate degree at Ohio State, we moved to Champaign-Urbana and he got a Master's at the University of Illinois and then we moved into the Chicago area where we stayed for about 38 years. And we lived first in Northbrook and then in Highland Park and Debbi went to school at University of Illinois for college and then she went to, she finished at Illinois Northern in DeKalb, Illinois. Lisa, who came along three years and one day later, went to school at Northern Illinois University and Lisa is now married to Jeff Winkler. They live in California.
Debbi met her husband while we were in Illinois and he was from Delaware, as I said, so when I divorced Marlin after 45 years, I came back to Columbus which is where I had grown up and Debbi and her family moved back here a few months later since his family was here and I was here. So Debbi and her family are here now and I see them regularly and Debbi actually got an Accounting degree. Chan is an Electrical Engineer. Lisa is a fitness instructor and she has various computer-entry jobs. Her husband works for the federal government and he has a job which he's not allowed to talk about and he does some sort of confidential investigative work for the government. And that's what took them to California.
Interviewer: Then you have some granddaughters?
Abramson: Yes, Debbi had three children. Lily is almost 12 years old, Mike is almost 10 years and Mia is almost six years old. And Lisa's children are Jackson who is 17 and will some day be a famous hockey player. He's been doing ice hockey since he was five years old and he travels around the country and to Canada. He is a hockey goalie. Naomi is in volleyball. Naomi is 16. And she enjoys that and they've grown up faster than I can keep track of. I'm sure you're familiar with that.
Interviewer: Yes. Well excuse me for not mentioning grandsons a few sentences ago.
Abramson: Yeah. In my family, Lois was my older sister and she was five-and-a-half years older than I. She was born in 1922 and my brother Jerry was two years older than I. He was born in 1925. Unfortunately both of them have passed away since I came back to Columbus which was in March of 2001 and as you, Marvin, I'm the baby of the family and the only one left and Lois has two sons who are now in their 50s and one son has two daughters and two sons and interestingly enough, one of those daughters went to Ohio State and she is now back in Columbus working and so one of my grand-nieces or great- nieces is back in Columbus. The other couple has now moved to Atlanta and that's my sister's younger son and they have a son and a daughter. Jerry's family are all here in Columbus.
I'm looking over my notes and there are a couple of things here I wanted to mention. My father came to this country from Russia. I think he was 16 years old. He didn't want to go into the Czar's Army so he came here where his older sisters and brothers had immigrated and he moved to Toledo. The Toledo and the Detroit Jewish communities were quite close and he wanted to court my Aunt Fanny who was in Detroit. However her older sister Sarah was not married so he was not allowed to court Fanny, he had to court Sarah the older sister and that's who he eventually married.
Interviewer: (Indistinct)
Abramson: Yeah that was the way it was in those days.
Interviewer: And he was Ed Fisher.
Abramson: He was Ed Fisher and when we lived on Parsons Avenue and went to Schonthal Center, my sister and brother and I walked alone at night, I don't know, maybe a mile and a half from Parsons Avenue to Rich Street. There was never any concern for our safety. We always walked and it was dark and . . . .
Interviewer: It was a different time.
Abramson: it was a different time and we had no concern about walking alone at night, just the three of us children at the time. When I was growing up there was at Schonthal Center a Junior Jewish Community Council of which I was the secretary and it was an overall body for Jewish youth groups, B'nai B'rith and the Hadassah groups and all of the groups had representation on this Council and every year they would sponsor a Stunt Night and different groups would perform various stunts. At the time, I was in a, we called it a sorority. It was a friendship group of girls and I wrote and directed and acted in our annual presentation and we actually won some first place awards for those a couple of times.
Interviewer: Did Tibie Thall, was Tibie Thall a sort of a leader or manager?
Abramson: I don't remember Tibie.
Interviewer: She had a sister and they were table tennis . . . .
Abramson: Table tennis champions, yeah. But at one point and I can't remember the year but you'll remember this Marvin, the Jewish youth of Columbus put on a "Pageant of the Strong". We rehearsed upstairs at Schonthal, Laura Ziegler my cousin did the art work on the scenery and all that and it was a costume pageant and we presented it at the Hartman Theater and we had a lot of kids in it and . . . .
Interviewer: About how many?
Abramson: There must have been 50 or 60 kids. I have the program at home.
Interviewer: Ruth Russell was the Director.
Abramson: Yeah and we rehearsed upstairs at Schonthal and it was quite an undertaking. I don't know who was behind it but it was a fun thing and it was quite an undertaking and we had a lot of fun and a lot of people involved.
Interviewer: We have a photograph of the cast at curtain call in the archives of the Jewish Historical Society.
Abramson: I'm looking over my notes here. When I was probably in high school, I was Co-Chairman of the United Jewish Fund which is what the Federation drive used to be called, I was Co-Chairman with Gordon Zacks and then a few years later I was Chairman of the Young Adult Division. We used to fund raise for the Jewish charities that we supported.
Since I came back to Columbus, I retired from my part-time job and my, I had two part-time jobs, and now I do volunteer work. I'm at Family Services on Monday afternoon, I'm at Hospice on Tuesday afternoon and I'm on the Board of the Historical Society and I transcribe oral history tapes. I have done over 125 oral history tapes for the Society. Interviews are done on tape recorders and then I take the tapes home and type them on the computer and print up a disk and they're put on our website and many of the ones that I typed are available on our website. I spend my time mostly doing volunteer work these days. I sorted through the entire Herb Topy negative collection which was donated to the Society by his family, picking out negatives of interest to the Columbus Jewish community. I also baby-sit/visit with my grandchildren one day a week.
I grew up at Tifereth Israel and was confirmed there and Marvin was in my Confirmation Class. And then when I went to work for Rabbi Folkman I began to feel comfortable with Reform Judaism because it fit the way we lived. I was married by Rabbi Folkman at Temple Israel and my husband and I belonged to the Temple when we lived here. We moved to the North Shore of Chicago and I was a Board Member at the Reform Congregation there, Lakeside Congregation for Reform Judaism. I think I was a Board Member for eight years and then we transferred to…it's called "Congregation for the Deaf" and it serves people who are hard of hearing, in Skokie, Illinois. And by that time Marlin was having hearing problems so we went to that Congregation and I did some fund raising for them.
I noticed that the Choir robes, by the way, the service and the songs were signed and sung so that people with hearing difficulties could participate. And I noticed that the Choir robes were maroon and gray and beige and navy blue and I raised funds to buy Choir robes that were all the same color and raised enough money so that they could also buy High Holyday Choir robes and that was what I did as a volunteer at that synagogue.
I have received two honors from the Historical Society. One was the "Ben Balshone Award" and the other is "Volunteer of the Year" and I also received an award from the Jewish Family Services as "Volunteer of the Year".
Interviewer: Honey, you're a remarkable woman, a very giving and generous person and you have many, many friends who are going to enjoy listening to your story. I'm very proud that I was able to interview you and ask you to talk about some of the history of Columbus because you are a very interesting person.
Abramson: And you are involved in much of my history. When I came back to Columbus, I've never mentioned this to you, but any time you had people at your house you invited me over so I could get reintegrated into the Columbus community and as you said, we've been friends for 70-some years.
Interviewer: Yes, and no one is closer to me as a friend. I want to thank you for volunteering this history which is going to be of interest to many people. And this is Marvin Bonowitz speaking with Honey Fisher, also known as Harriet Fisher, now Abramson and I'm signing off, proudly.
Transcribed by Honey Abramson
Corrected by Honey Abramson
Proofread by Marvin Bonowitz
* * *
ADDENDUM
Ed (Riback) Fisher was born March 7, 1895 in Grobny Gobernya, Russia, died November 20, 1944, 49 years old. One of 16 children, two mothers (first mother died and father married her sister). Came to this country and served in the Army for World War I and as a result, received his citizenship.
Sarah Farber Fisher, born January 22, 1896 in Cincinnati, Ohio. Died December 15, 1974, 78 years old. One of six sisters and one brother. Family lived in Cincinnati, Ohio where father was a painter and paper-hanger and mother was a midwife. Later moved to Detroit. Married Ed on August 22, 1921.
Ed worked at Curtiss-Wright during World War II, in addition to the Market stand. After his death, Sarah kept the stand for a few years.
When we lived on Oakwood Avenue in about 1934, we played sidewalk group games with all the other children in the neighborhood, regardless of age. I remember "Red Rover".
I was President of my sorority at one point and when a group of younger girls formed a second chapter, I served as their Advisor. Later we added a third younger group and I also served as their Advisor. I was also President of the Young Adult group at the Jewish Center.
After marriage, our first apartment was in a building owned by the Ziegler family at 1471 E. Columbus Street.
Marlin's first job out of college was with the Skokie, Illinois Park District. He was in charge of all of their parks, playgrounds and pools. After working there for a couple of years, he was offered a job as a sailmaker with Murphy and Nye, a Chicago sailmaker. Since sailing was his very strong hobby, he was happy to make this change.
Through the years there were changes in the management of the sail loft and he was eventually relieved of his duties. He then became a salesman selling boating equipment and supplies.
Our first home in Highland Park was at 1303 Ridgewood Drive. It was a single-family home which had been converted into two units and we lived downstairs and rented out the upper level. This enabled us to utilize the income to help purchase the house. We later moved to 1811 Cavell Avenue where Marlin still lives.
Having a stand at Central Market entailed something of a way of life. When we bought our house on Kelton Avenue, there was a single-car garage in back. My father had a second 20X20'garage built in back where the property dipped down toward Lilley Avenue. This was where he kept his truck and bushel baskets, berry baskets, extra bags which were bought in bulk, empty crates and anything else he saved for possible later use. He knocked apart melon crates and used the slats to build a covering over the steps leading down to the back garage.
At market in the cold weather, we kept warm by a stove which burned coke which is something like charcoal brickets. We would roast apples and potatoes on the stove and also warm up the hot dogs and lunch meat which we bought for our sandwiches. I can remember that my father had to clean lettuce heads of excess and wilted leaves. Lettuce came packed in ice and in the cold weather, he would use his bare hands to clean the lettuce so it was salable and then he would come and warm his hands over the stove. When the weather was very cold, we wouldn't go to market that day. This made my mother happy in a way because then she could go to Lazarus on Saturday the way other Jewish ladies did.
In the summertime when fresh peas were in season, my father went to the commission house on Friday afternoon to buy his merchandise for Saturday and he picked up baskets of peas and the whole family sat outside all of Friday evening and shelled peas because they sold for more money than peas in the pod.
Marvin asked about my hobbies and then started talking about sailing. I also work out at the Jewish Center three times a week. I enjoy sewing and knitting and baking, making gift items I give to my family and friends such as fancy guest towels, hand-knitted scarves and various kinds of coffee cakes and cookies. I read one or two books a week. I belong to a Sunday night dinner group that is composed mostly of older, retired people. In the summertime on Thursday evenings I pick up a couple of ladies at Heritage House and one at Creekside and we go to Johnson's Ice Cream shop and listen to the Bexley Jam Band. Also in the summer, I go to garage sales and search for items to contribute to the Columbus International Program in which my family is interested. They have one fund raiser a year and I try to find internationally-made items to be sold at their Silent Auction.
While my proper name for legal, work, and school purposes is Harriet, most people in Columbus call me Honey, my nickname. When I went to work for Rabbi Folkman, he said it would not be proper for a Rabbi to call his secretary "Honey" so he would call me Harriet.