Object Name:
Article
Scope & Content:
International Tuba Euphonium Association Journal Publication. Article in Volume 40, Number 3, Spring 2013 and on page 31. Donated by Jan Duga's parents, Dr. Jules (Father) and Cyril (Mother) Duga.

Brief background of Chief Master Sgt. Jan Duga and her career, which is explained as, "...distinguished career in the United States Air Force Band. She was the first female tubist to be a member of a United States premier military band" (pg 31).

Rest of article is a transcript of an interview held with Sgt. Duga and her career in music, as well as perspective as a female tubist in the U.S. military band.
Accession#:
2013.11
Object ID:
2013.11
People:
Duga, Jan
Duga, Cyril
Duga, Jules
Search Terms:
Duga, Chief Master Sgt. Jan
Duga, Sgt. Jan
Duga, Jan
Tubists
Military Musicians
Air Force Band Tubists
Women Tubists
Click to Enlarge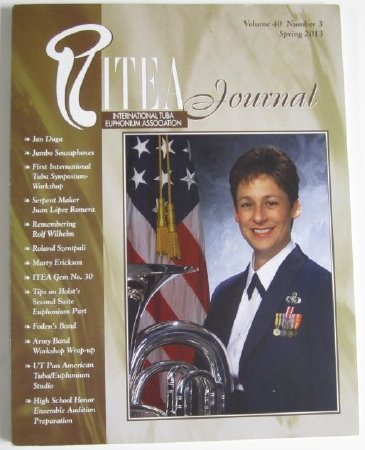 Cover of magazine