Object Name:
Cookbook
Scope & Content:
Sprial—bound cookbook titled: Feuer Family Favorites". Copyright 2011 by Morris Press Cookbooks.

Recipes of Mrs. Sarah Feuer and her family and friends. Includes an introduction, brief biography of Sarah Feuer, Max and Sarah Feuer family tree and brief family history.

Email correspondence from Carol Shkolnik

Also includes "Bubba—Lects" family photos and memories of Sarah from her granddaughter, Marilyn Stewart. Many family photographs throughout the book.
Accession#:
2014.60
Object ID:
2014.60.1
People:
Bloch, Anna
Bloch, Israel
Bronstein, Ester
Burg, Mildred
Burg, Sara
Feuer
Feuer, Ester
Feuer, Fannie
Feuer, Frieda
Feuer, Isa Mae
Feuer, Louis
Feuer, Marsha
Feuer, Marty
Feuer, Max
Feuer, Michael
Feuer, Mildred
Feuer, Morris
Feuer, Ruth
Feuer, Sara
Feuer, Sarah
Feuer, Steven
Finke, Maurice
Finke, Melvin
Finke, Philip
Finke, Susan
Hackman, Sandy
Mendelman, Marilyn Stewart
Morrow, Sandra
Peck, Joyce
Riskin, Ruth
Shkolnik, Carol
Stewart Jo
Stewart, Adam
Stewart, Gary
Stewart, Helen
Stewart, Helen Bloch
Stewart, Ida
Stewart, Marilyn
Stewart, Marilyn Sue
Stewart, Martin (Ray)
Stewart, Ronald
Stewart, Sally
Stewart, Stephanie Michelle
Weinstein, Paula
Search Terms:
Cookbooks
Feuer Family Favorites
Jewish Cookbooks
Family Trees
Immigrants
Recipes
Feuer family
Burg family
Morris Press Books
Click to Enlarge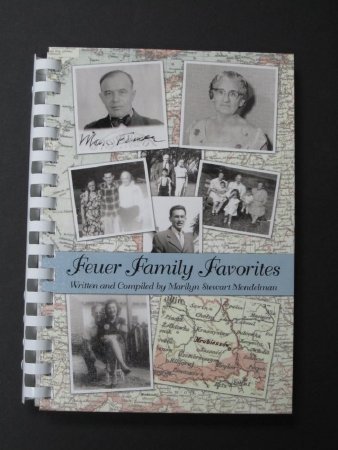 Feuer Family Favorites