Object Name:
Commemorative
Scope & Content:
Greenwald Family Collection consists of autobiographical writings, correspondence, newspaper clippings, family histories, telegrams, Rabbinical certificates, genealogical research records, translated documents (birth certificates, certificates of recommendation, etc.), bibliographies, book reviews, biographies, programs, photographs.

From Wikipedia:
Leopold Greenwald (1888–1955), also known as "Yekuthiel Yehuda" Greenwald, was a prominent United States Orthodox rabbi. Born in Transylvania, Greenwald emigrated with his family to the United States in 1924. For nearly thirty years he occupied the pulpit at Beth Jacob Congregation of Columbus, Ohio. The author of some forty works, most notably Kol Bo Al Aveilut, a halachic compendium and digest on the relevant laws of death and mourning, his scholarly contributions to Jewish law are widely utilized and referenced to this day.




Collection:
Greenwald Family Collection
Accession#:
06—03—0
Object ID:
87
People:
Blau, Reb. Jehudah (Lajos)
Bloch, Rabbi A.P.
Braudstein, Lea
Carlebach, Naftali
Ehrenreichot, Reb Slomo Zalman
Faruch, Governor Mahammet ibn
Finger, Henry
Fox, Dr. Marvin
Goldzieher, Y.Y.
Golinkin, Mordechai
Greenvald
Greenwald, Jekuthiel Judah, 1889—1955
Greenwald, L. (Leopold), 1889—1955
Greenwald, Leopold, 1889—1955
Greenwald, Rabbi Leopold
Greenwald, Yekuthiel Yehuda
Grinv?ald, Yek?uti'el Yehudah, 1889—1955
Gruenwald, Leopold
Grunvald
Grunwald, Jacob
Grunwald, Jakab
Grunwald, Mr. Lipot
Grunwald, Mrs. Jakab
Grunwald, Rabbi Mose
Grunwald, Zalman Leb
Grunwald, Zalman Lieb
Grünwald, Leb Solomon
Grünwald, Leopold
Grünwald, Leopold, 1889—1955
Hakohen, Reb. Chajim Meir Zeev
Hartmann, Binjamin Hakohen
Herman, Fried
Horovitz, Reb. Mordechaj Halevi
Horowith, Rabbi Isaiah (Shalah)
Horowitz, Armin
Horowitz, Gaonim R. Mordechai Halevi
Horowitz, Gisela
Hurwitz, Rabbi Isaiah of Prague (Shaloh)
Jonathan, Beth
Keller, R. Ezriel Isac
Kohn, Jozsef
Lewin, Isaac
Medoff, Dr. Rafael
Meseheloff, Rabbi Moses
Neutelbaum Koma, Eliezer
Niemirower, Dr. J.
Rabinowitz, Rabbi Baruch
Raphael, Marc Lee
Ritter, Hermann
Rosenbaum, Efraim
Rosenbaum, Ester
Rosenbaum, Eszter
Rosenbaum, R. Mose Chajim Szegal
Sokolov, Nachum
Stern, Linca
Talansky, David
Yakov, R.
Search Terms:
A Compendium on Mourning
Albania
Arugot Haboszem
Austria—Hungary
B'nai B'rith Messenger
Bacher
Beth Jacob Congregation
Bibliography
Blau
Budapest
Chief Rabbi of Nagykaroly
David S. Wyman Institute for Holocaust Studies
Donaldson Street
Ethics certificate
Exegesis
Fatai
Halachic
Halakhic
Halom
Hebrew Language
Hernadzsadany
Hungarian Birth Certificate
Huszt
Israelite
Israelite community of Maramaros
Jewish Theology
Kisvarad, Hungary
Kol Bo L'Vailuth
Lipot Teutelbaum
Maccabees
Magyar Zsido Szemle (Hungarian Jewish Review)
Maramarossziget
Maramorersh, Sighet
March of the Rabbis, October 6, 1943
Marriage license
Mohel
Nagyszeben
Nagyzben
Palestine Jews
Parashat Mordechai
Pest
Police certificate
Rabbinic Academy of Budapest
Rabbinic certification
Rabbinical Academy Yeshiva, Frankfurt
Rabbis
Religious Wisdom
Ritual
Romania
Shivah
Shumloi
Sibiu, Romania
Silver Anniversary Testimonial Banquet
Sziget
Szilagy—Somlyo
The Abandonment of the Jews
World War I, 1914—1918
Yeshiva
Yeshiva of Fressburg (Bratislava)
Click to Enlarge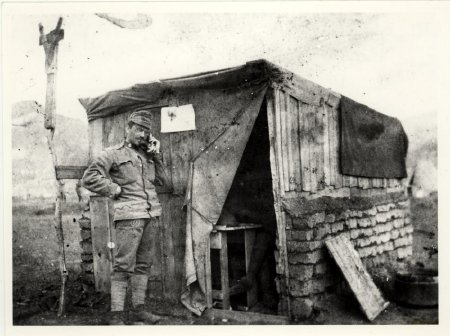 Leopold Greenwald WW I Serbian Front