Object Name:
Scrapbook
Description:
Jewish War Veterans was founded in 1896 and is known as the nation's oldest active veteran's organization. Capitol Post #122 is the central Ohio chapter of the organization, founded in 1935.
Jewish War Veterans, Capitol Post #122, Ladies Auxiliary scrapbook from the year 1937 to 1950, although the dates inscribed say 1937—1940. Inscription on the front inside cover "Zelda Dulsky, Historian."
Of note are many pictures representative of the period covered in the scrapbook, numerous citations and awards, newspaper articles, several documents related to a resolution supporting the abrogation of the British—Palestinian White Paper from 1944.
Also included are ribbons, convention brochures and programs, correspondence, flyers, and a JWVLA historian's report toward the back of the scrapbook, etc.


Collection:
Jewish War Veterans
Accession#:
95—06—12
Object ID:
7.07
Search Terms:
Memorabilia
Scrapbooks
Excelsior Club
Deshler Wallick Hotel
Department of Ohio
Signatures
Charter
Banquet
Bloodmobile
Aid to Israel Program
Adopt a Hospital
British White Paper
Resolution
Palestine
Nazi persecution
Historian's report
Children's Milk Fund
Citations
No. 122
#122
Click to Enlarge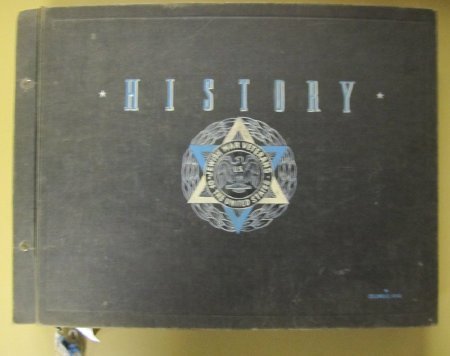 JWV History