Inaugural Meeting Held at CJHS
The inaugural meeting of Jewish Cultural Institutions of Ohio was held at the Columbus Jewish Historical Society on November 4, 2015. Participants were Columbus Jewish Historical Society, the Skirball Museum in Cincinnati at Hebrew Union College, and the Maltz Museum of Jewish Heritage. For the first time an effort is underway to create a consortium of archives and museums to work together to support one another's efforts and to maintain the Jewish history of Ohio.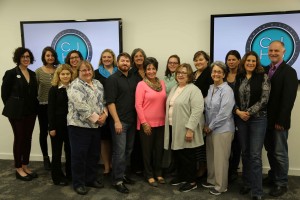 Attendees received a preview of the new CJHS Historical Collection, a dedicated exhibit space in which CJHS will display selections from the archives.